XM broker competitions are a great way for traders of all levels to test their skills, compete against other traders, and win real cash prizes. The broker offers a variety of competitions throughout the year, including demo contests, real trading contests, and social trading contests.
XM Broker has long been recognized as a reputable and innovative online trading platform, offering a range of financial instruments and services to traders worldwide.
The XM competitions provide traders with an exciting opportunity to showcase their skills, compete against fellow traders, and potentially win attractive prizes.
XM broker has a number of competitions including:
The Seven-Day Showdown (Prize pool $10 000)
The Daily Challenge (Prize Pool $5 000)
The Five-Day Showdown (Prize Pool $30 000)
The Funded Strategy Manager with different tiers (Prize Pool Tier 2 $20 000, Tier 1, $40 000)
Top Performer with three tiers. (Prize Pool, Tier 3 $40 000, Tier 2 $20 000, Tier 1 $5 000)
These different XM competitions have different account types and equity requirements. You will be able to see these specific requirements when you register for each competition.
How To Enter The XM Competitions
These XM competitions are open to all XM clients with verified real accounts.

Click here to open your XM live account. After creating the account verify it by simply uploading your identity document like your ID or passport. You do not need proof of residence to verify your account as long as you are based in your home country.
After verifying the account follow these steps to join the XM competition.
1. Log in to your XM account and look for the competitions tab.
2. Click on 'View Competition' and you will be directed to the competition page. As shown in the picture below, you can view ongoing competitions (In Progress), upcoming ones, and those that have ended. You can also view the competition requirements.
There will also be a breakdown of the competition prizes.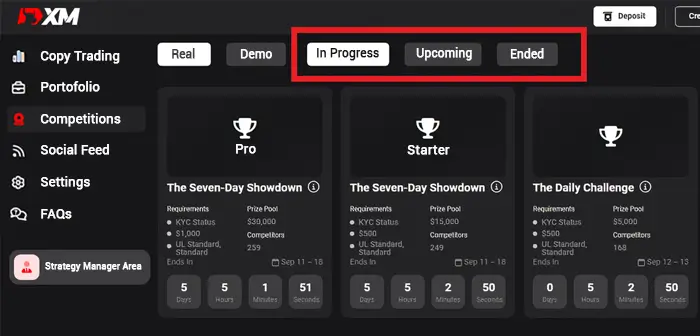 3. Click "Upcoming" to register for the next competition because you won't be able to join once it's in progress.
4. You will then get a notification when the next competition is about to start and you can then join in.
Terms & Conditions Of The XM Trading Competitions
To win withdrawable cash prizes, you must select the competition to become a Top Performer.
You are allowed to participate in multiple types of competitions simultaneously, for example, joining both the social trading competition and the daily challenge.
One account can only be used for one competition.
Accounts used for competition must be either standard or ultra-low standard accounts.
Your trading account must have equity in accordance with the competition's rules to participate. For instance, if you want to join a Tier 2 competition that requires a minimum equity of $500, you must deposit $500 first.



You are permitted to use both MT4 and MT5 as well as expert advisors for the competition if you wish.
If your trading performance is 0 due to inactivity, you will be excluded from the cash prizes, regardless of your ranking.
If two individuals happen to win with the same trading performance and ranking, the prize will be split between them.
Withdrawal can result in your elimination from the competition.
You are allowed to enter a competition with existing open (winning or losing) trades.
How Top Performers Are Determined In XM Competitions
XM selects winners based on their trading performance throughout a given period. Your performance in the XM trading competition is calculated using the following formula:
Performance = (Current Equity – D + W) / Initial Equity – 1

Current Equity = your equity at every evaluation point, typically every 10 minutes.
Initial Equity = your equity at the point of entering the competition.
D = Deposits during the period after joining the competition.
W = Withdrawals during the period after joining the competition.
Your performance determines your ranking in comparison to other participants. Rankings are calculated based on the performance of all participants.
At each calculation interval (usually every 10 minutes), the performance of all participants is calculated and then sorted in descending order. The higher the performance, the higher the ranking.
Additionally, there is also a separate scoreboard for Top Improvers, which includes individuals who may not have won but have shown exceptional progress compared to others.
Tips For Succeeding In XM Competitions
Choose the right competition for you: XM offers a variety of competitions with different formats and prize pools. Choose a competition that is appropriate for your trading experience and risk tolerance.
Develop a trading plan: Before you start trading in a competition, develop a trading plan that outlines your entry and exit criteria, risk management strategy, and money management strategy.
Manage your risk: It is important to manage your risk carefully when trading in a competition. Do not risk more money than you can afford to lose.
Be patient: It takes time and practice to become a successful trader. Don't get discouraged if you don't win a competition right away. Keep practising and learning, and you will eventually achieve your trading goals.
These tips will help you get the most out of these competitions.
XM At A Glance
🔎Broker's Name
XM.com
🏚 Headquarters
UK
📅 Year Founded
2009
⚖ Regulating Authorities
FCA, IFSC, CySec, ASIC
🧾Account Types
Micro Account; Standard account; Ultra Low Account; Shares Account
🎁 Bonus
Yes, $30
🧪 Demo Account
Yes
💸 Fees
$3.50
💸 Spreads
spreads from 0.6 to 1.7 pips
💸 Commission
commission-free trading depending on the account selected
🏋️‍♀️ Maximum Leverage
1:1000
💰 Minimum Deposit
$5 or equivalent
💳 Deposit & Withdrawal Options
Bank Wire Transfer
Local Bank Transfer
Credit/Debit Cards
Neteller
Skrill, and more.
📱 Platforms
MT4 and MT5
🖥 OS Compatibility
Web browsers, Windows, MacOS, Linux, Android, iPhone, tablets, iPads
📊 Tradable assets offered
Forex, commodities, cryptocurrency, shares, indices, metals, energies, options, bonds, CFDs, and ETFs
💬 Customer Support & Website Languages
23 Languages
⌚ Customer Service Hours
24/5
♻Copytrading
Yes
🚀 Open an Account
👉 Click Here
Frequently Asked Questions On XM Competitions
Who can join XM competitions?
Anyone with a live XM account can join in the XM social competitions
What are XM competitions?
XM competitions are trading contests that allow traders of all levels to compete against each other for real cash prizes. The broker offers a variety of competitions throughout the year, including demo contests, real trading contests, and social trading contests.
What are the prizes for XM competitions?
XM competitions offer some of the largest prize pools in the industry. The prizes vary depending on the competition, but they can include cash prizes, trading bonuses, funded strategy accounts and other valuable prizes.
How do I register for an XM competition?
To register for an XM competition, simply log into your XM trading account and go to the "Competitions" section. Then, select the competition you want to register for and follow the instructions.
Can I learn from participating in XM Broker competitions?
Yes, participating in XM Broker competitions can provide valuable learning opportunities. By competing against other traders, you can gain insights into different trading strategies, analyze market trends, and refine your own trading techniques. The competitive nature of these events can also help develop discipline, risk management skills, and the ability to make quick and informed trading decisions.