This post is also available in the following languages
Deriv Online LiveChat
Deriv has an online chat system that allows you to contact them 24/7. Online chat support on Deriv is a quick way to resolve your issues. You can get your responses in about 3 minutes. However, you are not able to attach any documents or send any private information via Deriv live chat.
To begin, simply click on the live chat icon at the bottom of the page as shown below.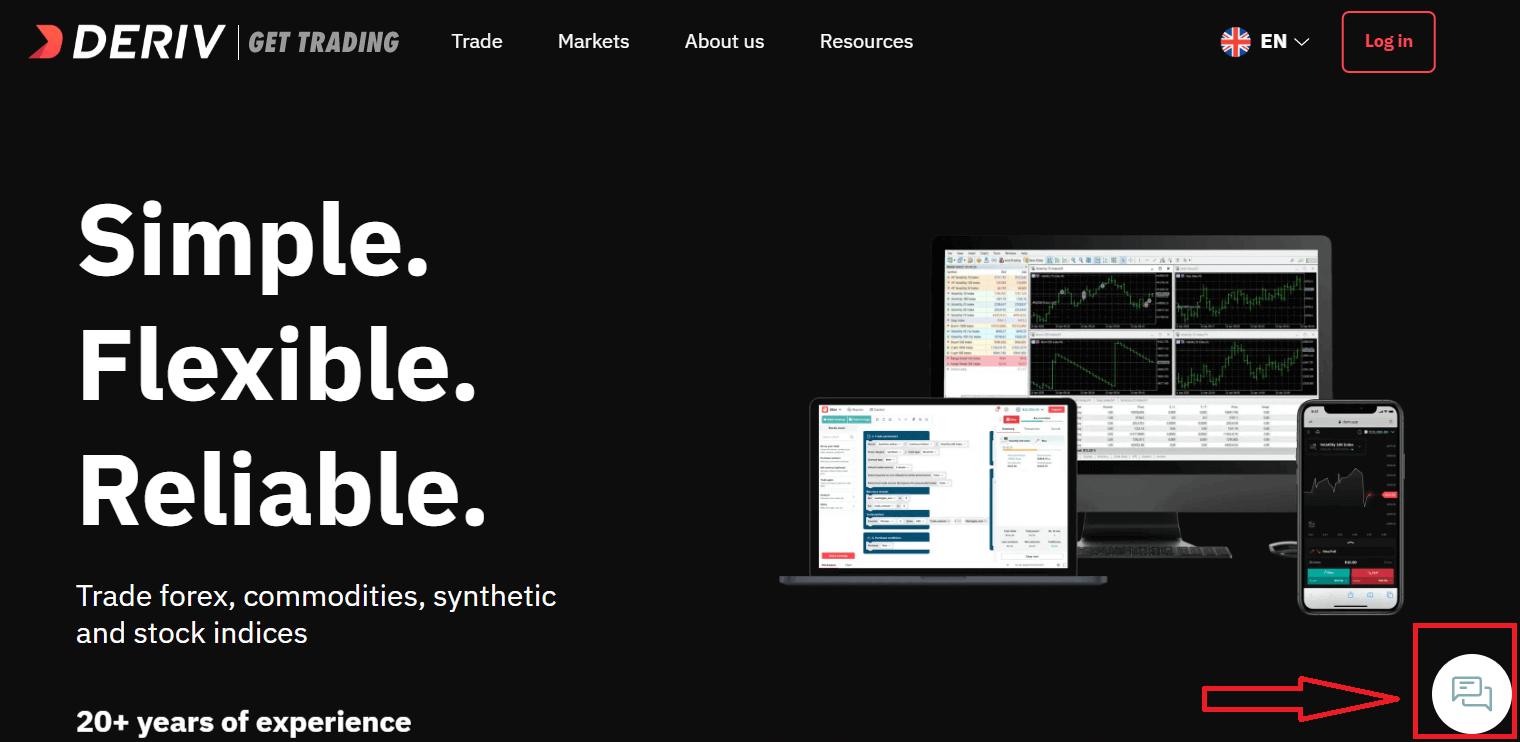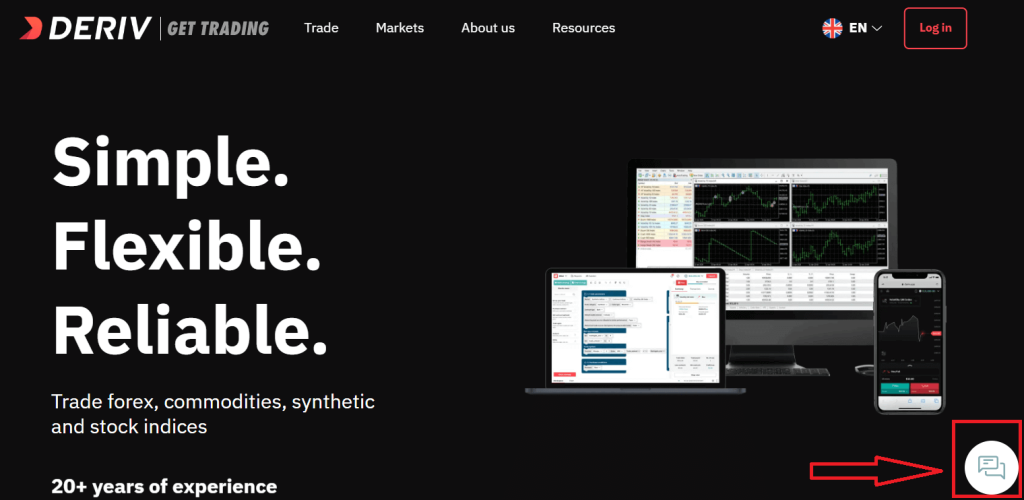 You will see a pop-up asking for your name and email address. Enter those details and click on "Start the Chat".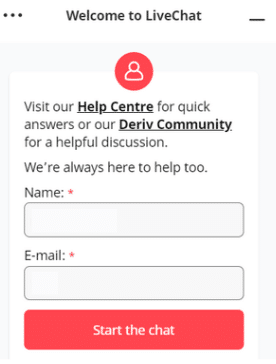 The first responses you get by contacting Deriv support via live chat will be from a  chatbot. It should be able to help you with answers to common queries like:
However, if you have a specialised case that the bot cannot answer you can choose to talk to a human. Simply click on "Talk to Agent" at the bottom of the screen.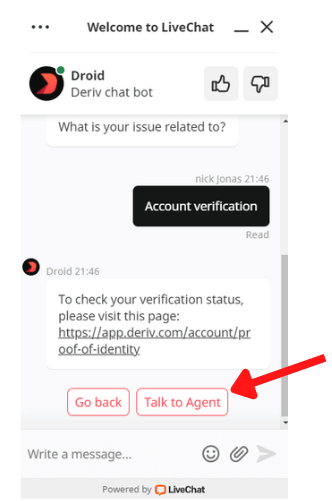 You can then state your case and the friendly agents will help resolve your issue.
Contacting Deriv Support Via The Deriv Community
Deriv support has a forum where you can ask questions and get help. You can also see the responses that have been given to others before.
Click here to go to the Deriv community. You will see a list of topics and their responses like below. There are even tips for trading synthetic indices.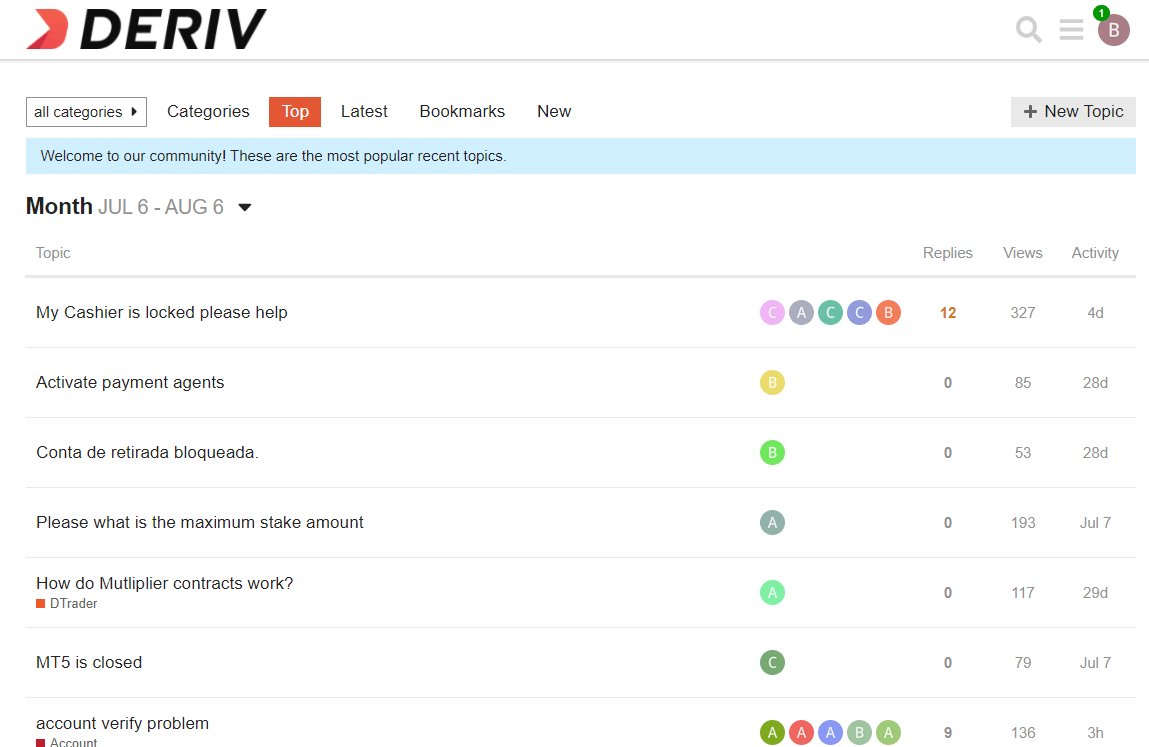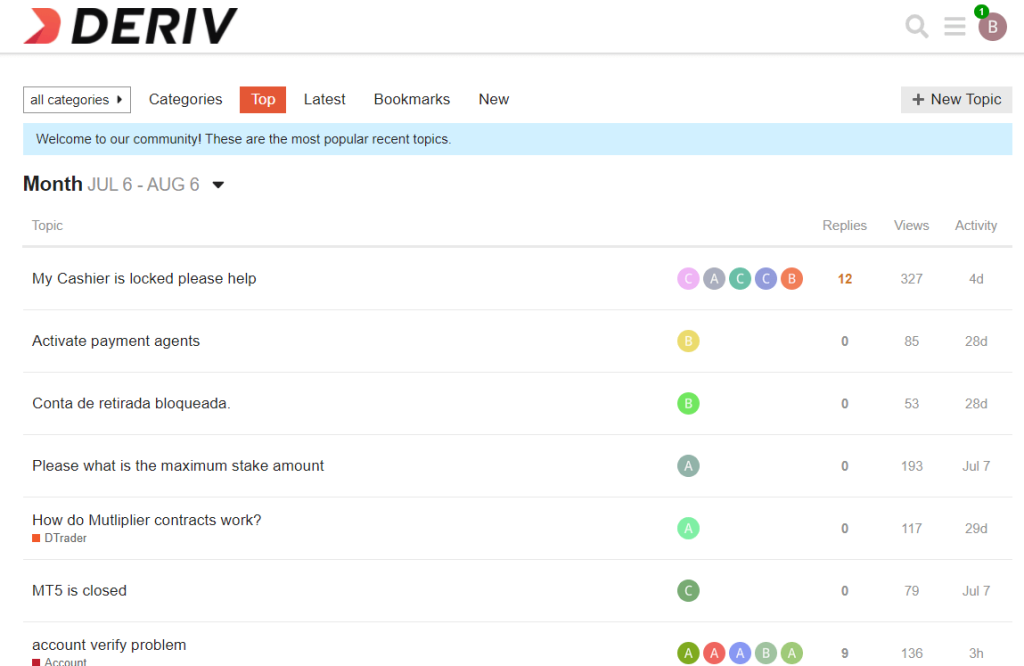 If you do not see anything related to your issue you can simply send your question by clicking "New Topic" on the top right.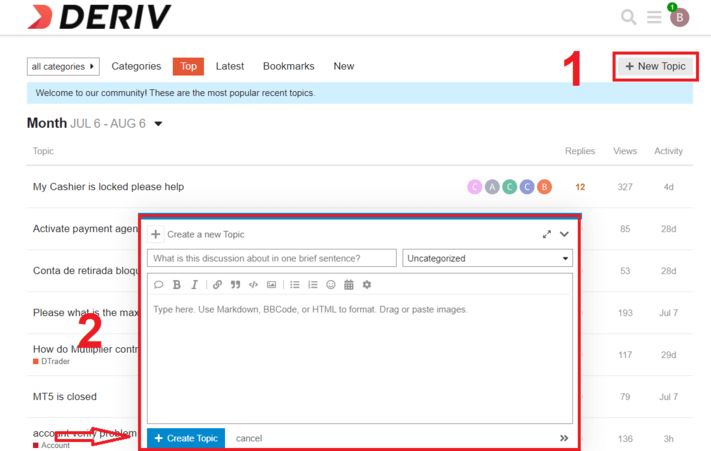 After that, you can wait for responses to your issue.
Deriv Help Centre
Deriv also has a help centre with common questions and answers regarding your account. Simply browse through the knowledgebase and you will likely find a resolution to your issue.
Contact Deriv Support via Social Networks
Deriv support is also available via social networks. You can ask your questions on the following social networks.
Facebook: https://www.facebook.com/derivdotcom
Twitter: https://twitter.com/derivdotcom/
Instagram: https://www.instagram.com/deriv_official/
Linkedin: https://www.linkedin.com/company/derivdotcom/
Contacting Deriv Support Via Email
You can contact Deriv support via the following email addresses:
For issues regarding dp2p use the following address p2p-support@deriv.com
For issues concerning payment agents use  partners@deriv.com.
For general issues use support@deriv.com
Frequently Asked Questions On Deriv Support.
Which is the quickest way to contact Deriv?
The fastest response you can get from Deriv is via the Online LiveChat.
Which languages Does Deriv Support Use To Respond To Your Issues?
Deriv  is an international broker and as such it supports a number of languages as shown below