Deriv X is a CFD trading platform that lets you trade various assets in multiple markets simultaneously. This article will show you how to trade synthetic indices on Deriv X.
These are the steps you follow:
Create A Deriv X Account
Download Deriv X
Log into Deriv X
Choose your asset
place trade
Create A Deriv X Account
You will need to create a dedicated Deriv X account before you can trade synthetic indices on Deriv X. To do this, log into your Deriv account. If you do not have a Deriv account you can quickly open one here.
Click on the menu icon to switch to Deriv X as shown below.
Choose Deriv X from the drop-down menu.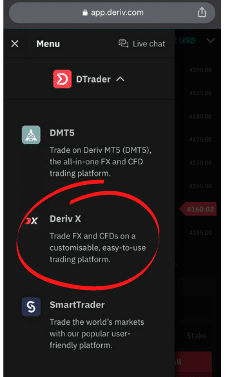 Click on Real Account and create a password for the account. This password is different from your main password or your DMT5 password. You will use the password to log into your Derv X account.
After creating the password you will get a success message and you will be prompted to transfer funds from your main account to your Deriv  X account. An email confirming the account opening will also be sent to you.
Take note of the account login (username) as you will need it to log in Deriv X.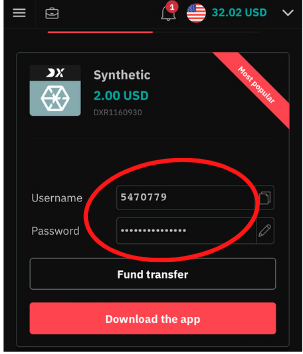 You will also see links to download the Deriv X app on Android or iPhone. Download the app and log in using the username and your Deriv X password that you created in previous steps. You will be prompted to create a pin to enhance the security of your Deriv X app.
After successful login, you will see the Deriv X interface as below.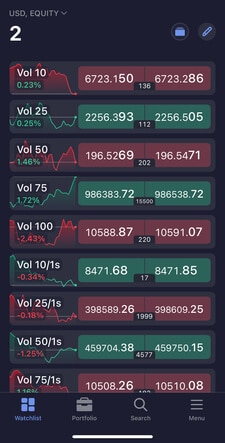 Placing Synthetic Indices Trades on Deriv X
There are 3 ways to place a trade on Deriv X:
Right-click or tap on the asset in the watchlist, (Choose from synthetic indices like boom & crash, step index, jump index and volatility indices)
select either Buy order or Sell order
Click on the Bid or Ask price in the watchlist
Right-click on the asset's chart, and select either Buy or Sell
You will now see a New Order box pop-up on your screen where you need to:
Select your order type (Market, Limit, Stop, OCO)
Specify your lot size
Select a buy or sell order depending on how you predict the market will move
Set your preferred limit, if you place a Limit, Stop, or OCO order
Set your stop loss or take profit limits by clicking Protection Orders
Click Send Order

You should be able to view your new position listed in the Positions panel. Click on the position to see the details of your trade, including position ID, fill price (the price at which you opened your trade), current price, and profit or loss according to current market price.
If you want to modify your stop loss or take profit limits, double-click on the open position. To close your trade, right-click on the open position and select Close Position.
Aside from enjoying a personalised synthetic indices trading experience on Deriv X, you can also upgrade your ability to predict price movements by customising your chart with drawing tools and technical indicators accessible at the top of the chart window.
Whether you're on a mobile, tablet or desktop, Deriv X adapts to the way you trade.
Disclaimer:
The Deriv X platform is not available for clients residing within the European Union or the United Kingdom.