What Is Deriv X
Deriv X is a CFD trading platform that lets you trade various assets in multiple markets like forex, commodities, and cryptocurrencies simultaneously.
This article will show you how to trade synthetic indices on Deriv X. These are the steps you follow:
Create A Deriv X Account
Download Deriv X
Log into Deriv X
Choose your asset
place trade
Create A Deriv X Account
You will need to create a dedicated Deriv X real account before you can trade synthetic indices and other assets on Deriv X. To do this, log into your Deriv account.
If you do not have a Deriv account you can quickly open one here.
Login to your Deriv account and click on the menu icon to switch to Deriv X as shown below.
Choose Deriv X from the drop-down menu.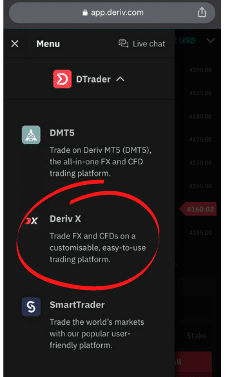 Click on Real Account and create a password for the account. This password is different from your main password or your DMT5 password. You will use the password to log into your Derv X real account.
After creating the password you will get a success message and you will be prompted to transfer funds from your main account to your Deriv X real account.
An email confirming the account opening will also be sent to you. Take note of the account login (username) as you will need it to do Deriv X login.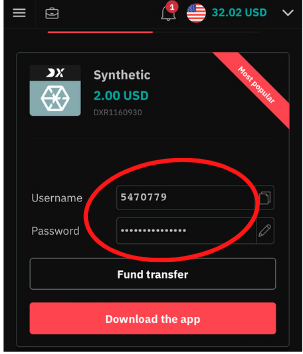 You will also see links to download the Deriv X app on Android or iPhone log in
How To Do Deriv X Login
After downloading the app you can do Deriv X login using the username and your Deriv X password that you created in the previous steps.
You will be prompted to create a PIN to enhance the security of your Deriv X app. After a successful Deriv X login, you will see the Deriv X interface as below.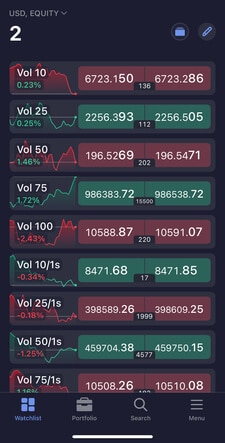 Placing Synthetic Indices Trades on Deriv X
There are 3 ways to place a trade on Deriv X:
Right-click or tap on the asset in the watchlist, (Choose from synthetic indices like boom & crash, step index, jump index and volatility indices)
select either Buy order or Sell order
Click on the Bid or Ask price in the watchlist
Right-click on the asset's chart, and select either Buy or Sell
You will now see a New Order box pop-up on your screen where you need to:
Select your order type (Market, Limit, Stop, OCO)
Specify your lot size
Select a buy or sell order depending on how you predict the market will move
Set your preferred limit, if you place a Limit, Stop, or OCO order
Set your stop loss or take profit limits by clicking Protection Orders
Click Send Order

You should be able to view your new position listed in the Positions panel. Click on the position to see the details of your trade, including position ID, fill price (the price at which you opened your trade), current price, and profit or loss according to the current market price.
If you want to modify your stop loss or take profit limits, double-click on the open position. To close your trade, right-click on the open position and select Close Position.
Aside from enjoying a personalised synthetic indices trading experience on Deriv X, you can also upgrade your ability to predict price movements by customising your chart with drawing tools and technical indicators accessible at the top of the chart window.
Deriv X works a bit like mt5 but it has more features and it allows you to trade different assets at the same time.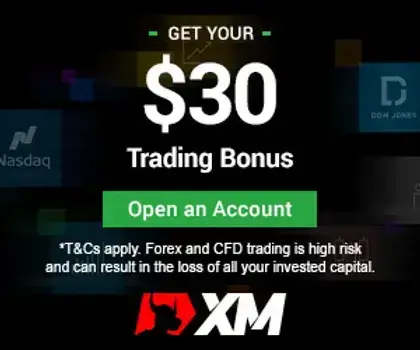 Advantages Of Deriv X
Deriv X offers commission-free trading
Multiple widgets that can be set up in a workspace, moved from one workspace to another or even to a separate window. For example, if a trader relies on technical analysis, they can craft a workspace consisting of just chart widgets.
Partial position closure, which allows traders to implement more complex risk management trading strategies.
One-click trading that can be enabled by linking customizable watchlists across widgets.
Deriv X offers a free demo account, so you can practice trading with virtual funds before risking any real money.
Offered by a regulated and licensed broker
Deriv X prioritizes user security and privacy. The platform implements robust encryption protocols to safeguard sensitive user data and financial transactions.
Deriv X excels in customer support, offering multiple channels for assistance. The platform provides a comprehensive knowledge base, tutorial videos, and FAQs, which are valuable resources for users seeking self-help.

Cons Of Deriv X
No sign-up bonus
Limited educational resources
Deriv X App Download
Whether you're on a mobile, tablet or desktop, Deriv X adapts to how you trade. Below you can find links to download the different Deriv X app versions for your device.
Is Deriv X Reliable?
In terms of reliability, Deriv X has demonstrated commendable stability and uptime. The platform is built on robust technology, ensuring minimal disruptions during trading sessions.
Order execution is generally prompt, and the platform provides real-time market data to help traders make informed decisions.
While occasional technical glitches may occur, the Deriv X team is proactive in addressing these issues and providing timely updates.
Tips for using Deriv X:
Use the demo account to practice trading before you risk any real money.
Take advantage of the customizable trading interface to create a workspace that suits your individual needs.
Use the powerful charting tools to analyze the markets and make informed trading decisions.
Manage your risk carefully by using stop-loss and take-profit orders.
Contact Deriv customer support if you have any questions or need assistance.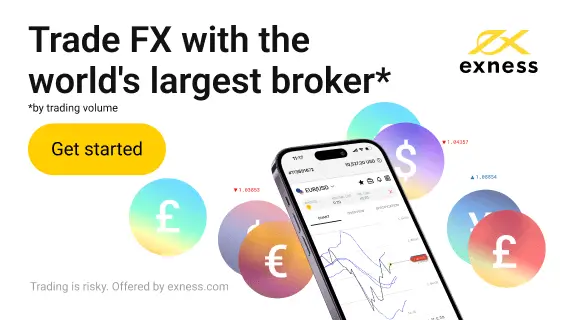 Deriv X Platform: Our Verdict
Deriv X is a powerful and customizable trading platform that offers a wide range of features and trading instruments. It is a suitable platform for traders of all levels of experience, from beginners to professionals.
If you are looking for a trading platform that offers a wide range of features and flexibility, Deriv X is a great option to consider. However, if you are a beginner trader, you may want to look for a platform with more educational resources.
There are areas where Deriv X can be further enhanced.
The platform could benefit from the addition of more educational resources, such as webinars or trading courses, to support traders in their learning journey.
Furthermore, expanding the range of available languages would make the platform more accessible to a global user base.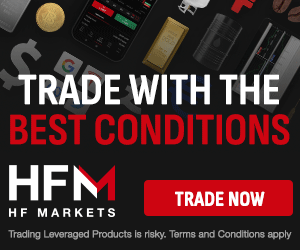 Frequently Asked Questions On Deriv X

Disclaimer: The Deriv X platform is not available for clients residing within the European Union or the United Kingdom.