You can open your synthetic indices account and trade without the need to verify your Deriv account. You will only be asked to do Deriv account verification if you want to withdraw more than US$10 000.
This article will show you how you can easily verify your Deriv account and remove any withdrawal restrictions.
What is Deriv Account Verification
Deriv account verification is a mandatory procedure that helps the broker to ascertain the clients' identity & location when the client registers a trading account.
Since forex and synthetic indices trading is done online there is a risk that anyone, anywhere can simply open a trading account using a fake name and address. Such an account can then be used for illegal activities like money laundering. Account verification helps forex brokers ensure that their traders are genuinely who they claim to be.
The Deriv verification process is a critical aspect of the Know Your Customer process.
How Do You Verify Your Deriv Account?
The following are the Deriv verification documents needed:
A valid ID or Passport or Driver's licence clearly showing your name and date of birth (for proof of legal existence). Use only the page with your picture if you are uploading your passport. If you are uploading your ID or Driver's licence upload both the front and back.

A utility bill (e.g. electricity, water, gas, phone, internet) or bank statement in your name that has been issued in the last 6 months (for proof of residence)

You can also use a lease agreement showing your name and the name and contact details of your landlord
If you do not have any proof of residence you can approach a commissioner of oaths and get a stamped affidavit. This is a simple and convenient way to get legit proof of residence.
You will need to log in to your Deriv account and click on the account settings tab. Look for the account verification tab and click on the document you want to upload to verify your Deriv trading account.
Do not be tempted to use forged documents. This will be disastrous for you. Deriv has templates of legit documents and their computers can easily pick out forged documents. When they do, you risk having your account closed.
How Do You Upload Documents on Deriv?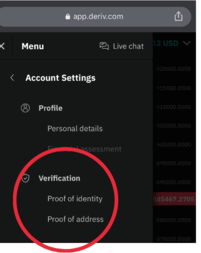 To upload verification documents on Deriv you must click on the following: Login > > Settings > Profile > Verification/Authentication.
Click on the document that you want to upload.
A dialogue box will appear and allow you to choose the document you want to upload.

Frequently Asked Questions On Deriv Account Verification
Why Should I Verify My Deriv Account?
A fully verified Deriv account will give you full access to all the trading instruments offered by the broker. You will be able to freely trade synthetic indices like volatility indices, jump indices, crash and boom and the step index.
If you open a Deriv account and you do not verify it, you may face challenges when you want to withdraw over US$10 000 from the account. You will also not be able to buy and sell Deriv credits on DP2P.
Can you Withdraw from Deriv Without Verification?
Yes, you can do Deriv withdrawal without verification. However, you can only withdraw up to US10 000. You will also not be able to withdraw via Dp2p. You will be able to withdraw via payment agents though.
Do I need to Specifically Verify my Deriv Synthetic Indices Account?
No, you don't need to do that once you verify your main Deriv account. The Deriv main account verification covers all types of accounts in your dashboard including synthetic indices and forex accounts.
Does Deriv need Verification?
No, you can deposit and trade without verifying your account as long as you do not withdraw more than US$10 000. Deriv will send you an email asking you to verify if the need arises.
Can My Documents be Declined When I try To verify my Deriv Account?
Yes, Deriv may decline your documents if they are insufficiently clear, invalid, expired, or have cropped edges. You can get in touch with Deriv support for clarification.
If you have any questions on Deriv account verification leave them in the comments below and we will respond.