What is Deriv C Trader?
Deriv cTrader is a new copy trading platform that allows traders to copy the strategies of expert traders in real-time.
Deriv cTrader allows traders to copy trade currencies, metals, indices, energies, derived indices and commodities.
The powerful copy-trading platform integrates trading with cutting-edge technology. It also offers a wide range of features and functionality, making it a good choice for both beginners and experienced traders.
In this guide, we will walk you through the key features of Deriv cTrader, providing step-by-step instructions on how to set up your account, make deposits and withdrawals, and execute trades effectively.
We will also cover advanced trading strategies and tips to help you maximize your profits.
Rating: ★★★★☆
How Does Deriv cTrader Work
Deriv cTrader works by connecting followers to strategy providers. The strategy providers' trades are automatically copied to the followers' accounts in real-time. This means that followers can potentially make profits without having to trade themselves.
Followers can choose which strategy providers to follow and can monitor their trades, close positions, withdraw profits, and manage their investments.
As a follower, you also have access to risk management tools and real-time performance monitoring.
Followers on Deriv copy trading only pay a commission if the copied trades are successful.
Deriv copy trading clients can follow as many strategy providers as they want as long as they have the funds. This means they can choose different trading approaches with different risk levels.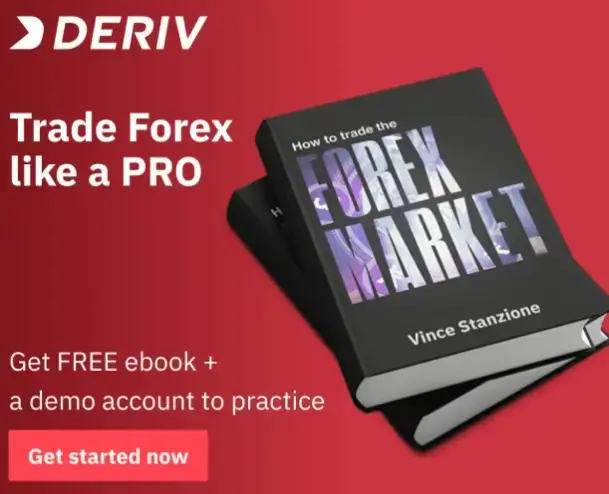 Deriv cTrader allows strategy providers to share their strategies, build a trade record, attract followers, and earn a commission from copied trades.
Deriv cTrader is a convenient platform for copy trading. It is accessible via a Windows app for PC, a web trader platform, and a mobile app for Android.
The iOS app will be available soon.
How To Open A Deriv cTrader Account Step By Step
To open a Deriv cTrader account, you can follow these steps:
Open A Deriv.com demo account
Open Deriv cTrader Account
Log in to your Deriv cTrader account
Let's look at these steps in detail.
1. Open Deriv Demo Account
In this step, we will create a general Deriv account that will give you access to trade any of Deriv's assets.
We will create a specific Deriv cTrader account in the later steps.
Go to the Deriv website and click on the "Create Free Demo Account" button.
Enter your email, agree to the terms and conditions and click where it says 'Create Demo Account'.
You will then receive an email from Deriv with a link to verify your email address. Once your email address has been verified, you can log in to your Deriv demo account.
2. Open Deriv cTrader Account
Log in to the Deriv demo account you created in the step above and click on the "Traders Hub" tab. Scroll down until you see the "Deriv cTrader" tab and click on "Get".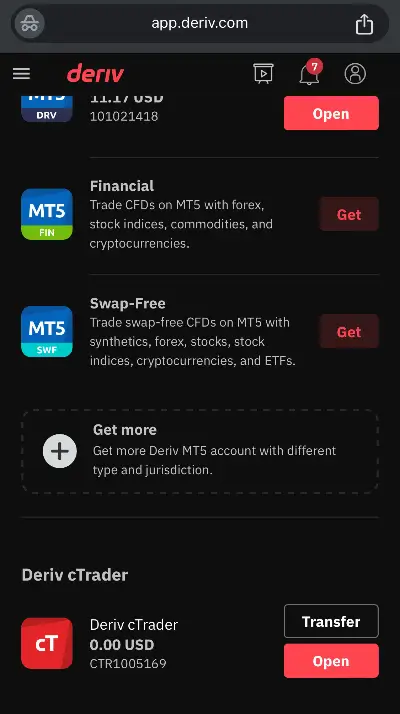 Your new Deriv cTrader account will be created. You will be prompted to transfer funds from your main Deriv account to the cTrader account.
An email confirming your cTrader account will be sent to you.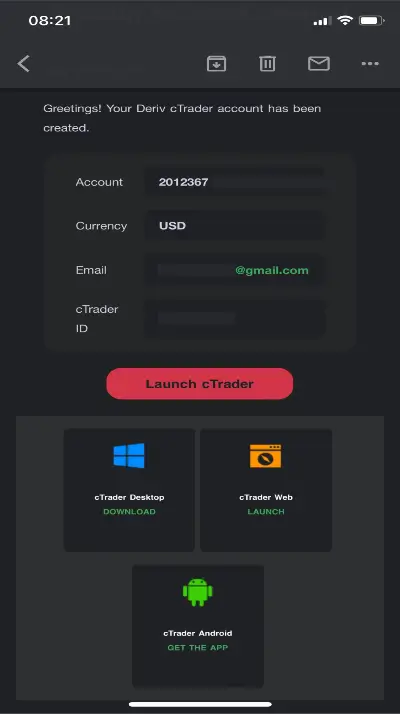 You will also see links to download the Deriv copy trading application or to log in to Deriv copy trader on Web Trader.
3. Log In To Deriv cTrader
You can then log in to cTrader Deriv using your main Deriv email and password. You can also log in to Deriv copytrading Web Trader.
How To Start Copying On Deriv cTrader
After logging in to Deriv Copy Trader you will see a menu list on the left. Click on 'Copy' to see a list of strategies you can copy.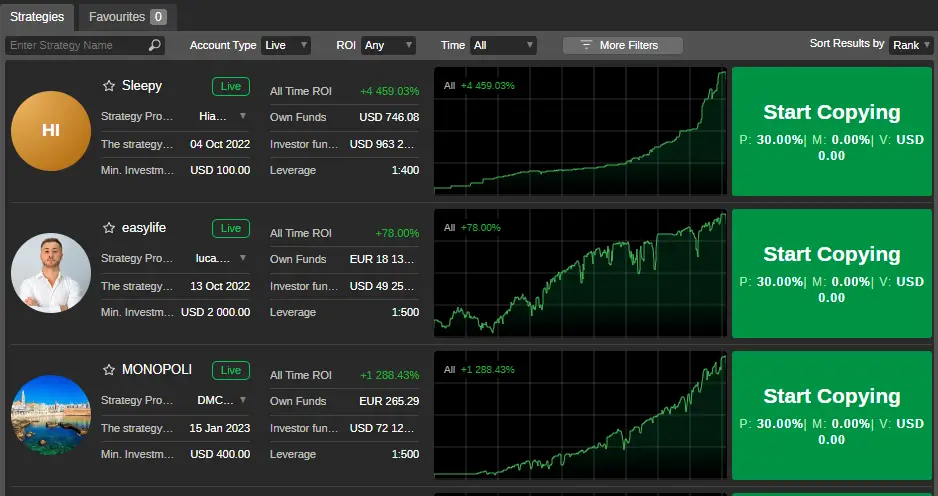 Click on any strategy to get more information on it including:
All-time Return On Investment (R.O.I)
Total investor's funds copying the strategy
Strategy provider's funds being traded
Minimum investment
Duration of strategy
Leverage
Commission rate etc
You can use this information to compare strategies and find the one that fits your needs and risk appetite.
Once you have chosen a strategy click on "Start Copying" and allocate funds to the strategy.
You can copy more than one strategy at a time.
Now when you click on "Copy" you will see a list of the strategies you are copying and their current performance. You can add more funds or stop copying a strategy at any time.
How To Open Deriv cTrader Demo Account
Deriv allows you to open a demo account to practise social trading. You can copy strategies just like on a real account.
To open a Deriv cTrader demo account follow these steps:
1. log in to your main Deriv account using the email and password you chose when you signed up
2. Click on
"Traders Hub",
then on the "Real/ Demo" toggle,
then on the "CFD" tab.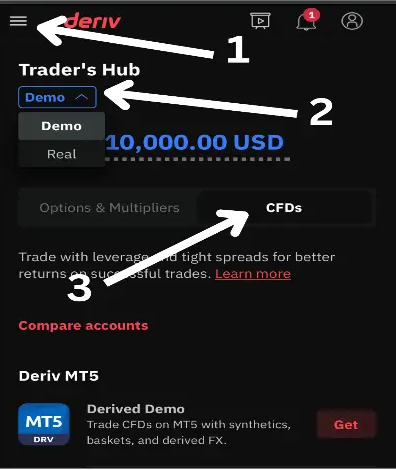 3. Scroll down until you see the cTrader button and click on "Get". Your demo Deriv cTrader account will be created and you will get an email confirmation of the same. You can start copying demo strategies right away.
Deriv cTrader Features
Advanced charting tools: Deriv cTrader offers a variety of charting tools, including candlestick charts, bar charts, and line charts. You can also add technical indicators to your charts to help you analyze the market.

Advanced order types: Deriv cTrader offers a variety of advanced order types, such as stop losses, limit orders, and trailing stops. These order types can help you to manage your risk and maximize your profits.

Multiple Language Support: Deriv cTrader supports up to 23 languages making it very convenient.

Highly customizable: Tailor the trading experience with one-click trading, live market sentiment indicators, fluid chart dynamics, and QuickTrade modes. You can also enable push notifications and email price alerts.

Automated trading: Deriv cTrader offers automated trading through robots and custom indicators

Deriv Copy Trading Costs
Copy trading on Deriv comes with different trading costs that may or not be charged depending on the strategy provider. These are:
Minimum Investment (Deposit)
This is the minimum equity you need to copy a strategy.

Performance Fee
It applies to the net profit using a high watermark model and is paid at the end of each month

Management Fee
It is an annual percentage of Investors' Equity calculated daily and paid at the end of each month

Volume Fee.
It is based on the volume traded while copying the Strategy and charges for opening and closing each position
Different strategy providers charge different fees and some may not even charge any fees. It is important to be sure of the fees charged by a strategy provider before you start copying it.

Advantages Of The Deriv cTrader account:
Wide range of strategy providers to choose from

Low spreads: Deriv offers some of the lowest spreads in the industry, which can help you maximize your profits.

High liquidity: Deriv has a high liquidity pool, which means that you can easily enter and exit trades without affecting the market price.

Advanced trading features: The cTrader platform offers a variety of advanced trading features, such as technical analysis tools, automated trading, and hedging.

Demo account: Deriv offers a free CTrader demo account, which you can use to practice trading before you start using real money. You can even copy strategies with a Deriv copy trader demo account.

Reliable platform: Deriv social trading is a reliable platform designed to withstand even the most volatile market conditions.

Customer support: Deriv offers excellent customer support, which is available 24/7.

Cons of Deriv Copy Trading
Cannot copy trade cryptocurrencies
May lead to over-dependence on other traders
Past performance does not guarantee future results.
There is still risk involved in copy-trading
The costs involved in Deriv copy trade may be significant.
How To Deposit & Withdraw On Deriv cTrader
There are two ways to deposit to your Deriv cTrader account. These methods can also be used for withdrawing.
Log in to your main Deriv account and click on "Cashier > Transfer". You can then transfer from your main Deriv account to the Deriv copy trading account.

Log in to cTrader Deriv and click on "Deposit" on the left side. A box will appear that will allow you to deposit

The minimum deposit and withdrawal amount from the Deriv copy trading account is $5. However, it is important to remember that you will need to deposit the minimum investment amount required by each strategy before you can copy it.
Some strategies may have a minimum deposit of $50 while others may require $20 000 or more.
You can deposit funds into your main Deriv account using a variety of methods, including credit card, debit card, wire transfer, e-wallet, dp2p and payment agents.
Tips for beginners opening a Deriv Copy Trader account:
Start with a demo account: This will allow you to practice trading without risking any real money.

Learn about the risks involved in trading. Trading can be risky, so it is important to understand the risks before you start.

Take time to choose the right strategy to follow. Analyse the historical performance of the trader before committing funds.

Only trade with money you can afford to lose: Trading is risky, and you could lose money. It is important to only trade with money that you can afford to lose.

Start small. When you are first starting, it is best to start small and gradually increase your trading size as you gain more experience.

Do your research: Before you trade any instrument, it is important to research and understand the market.

Use a stop loss: A stop loss is a trade order that automatically closes your trade if the market moves against you by a certain amount. This can help to limit your losses.

You May Be Interested In:
Conclusion On Deriv cTrader
The cTrader platform from Deriv is the ultimate trading platform for traders of all levels. With its advanced features, customizable interface, and powerful tools, it empowers you to make informed trading decisions and maximize your profits.
Whether you are a day trader, swing trader, or long-term investor, Deriv Copy Trader has everything you need to succeed in the financial markets.
In this guide, we have covered the key features of Deriv copy trader and provided step-by-step instructions on how to get started, navigate the platform, and customize your trading experience.
We have also shared advanced trading tips and strategies to help you enhance your trading skills and achieve your financial goals.
Frequently Asked Questions On Deriv cTrader
What is Deriv cTrader?
Deriv cTrader is a new copy trading platform that allows traders to copy the strategies of expert traders in real-time.
What financial markets can I trade on Deriv cTrader?
Deriv cTrader allows you to invest in Forex currency pairs, Stock Indices, Commodities (Precious Metals and Oils), and Synthetic Indices.
How does cTrader benefit strategy providers and traders?
cTrader Copy allows anyone to share their trading strategy for a commission, while others can search, copy, and invest using those strategies.
Is there copy trading in Deriv?
Yes, Deriv offers copy trading via the Deriv cTrader platform.